Our valued retailers are welcome to login to our site to view prices and buy our products. If you are an existing retailer and need your login details, please contact us. If you are retailer interested in stocking Moulin Roty products, please click 'Wholesale enquiry'.
If you are a retailer of children's products and you wish to stock Moulin Roty products, please fill out the form provided, and we will get back to you with login details so that you can view prices on our website. We look forward to hearing from you!
Are you looking to buy a Moulin Roty product for your child or for a gift? Browse our list of stockists to find one near you, or contact us with particular product enquiries and we will direct you to the nearest stockist who stocks the product you require.
2016 Memoire d'enfant catalogue!
Join the dance! The show must go on!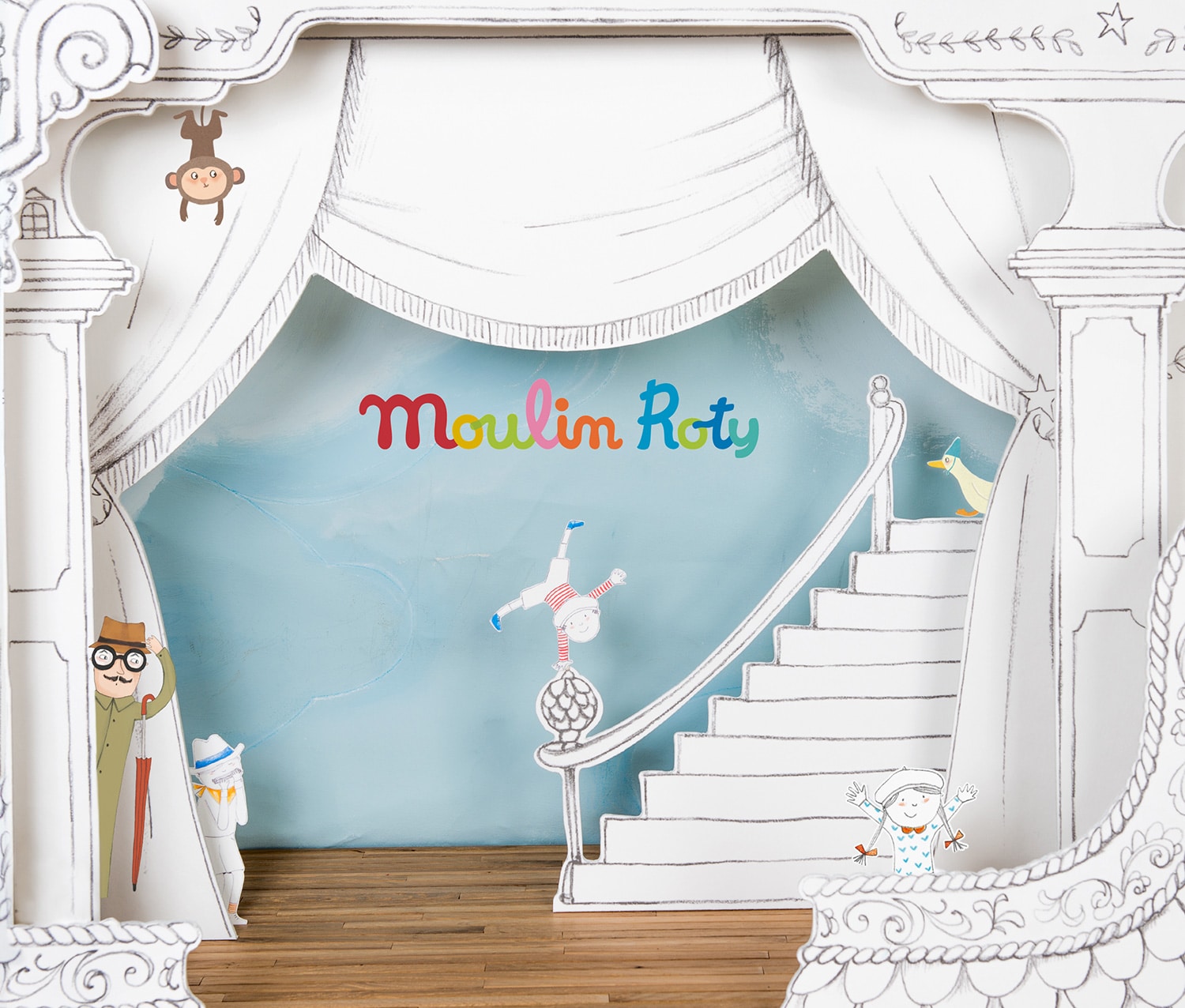 Discover the new Memoire d'Enfant catalogue. New products available in Australia from October 2016.
It's show time for 'Mémoire d'Enfant' with special performances on each floor of the theatre!
Put your hands together for the Broc & Roll's as they come on stage – a wacky, off-beat band exuding energy! Tiny, adorable mice run amongst the sceneries stocked in the attic whilst the beautiful Parisiennes sing sweet melodies to the stars.
All of the artists pass under the sharp gaze of two very special agents conducting a secret investigation behind the scenes. Come see the show, from the repetitions to the grand performance and discover all the new products that make up this new 'Memoire d'Enfant' catalogue.
Discover the new Tartempois catalogue!
Pack your case . . . Discover the new Tartempois catalogue!
We're off for a ride with the Tartempois to discover their new universe dedicated to baby's bedroom.
The collection has been enriched with an entire bedding collection that is both refined and colourful. Made with 100% washed linen in two different, bright shades : pink and curry for girls, turquoise and peacock blue for boys.
Paper lanterns, frames and stickers complete the look.
The style is soft and poetic, in an atmosphere that is festive and joyful!
Les petits 2016!
Take a programme for 2016 ! Discover the 2016 Les Petits catalogue.
Les Petits invite you to their new cinema screening starring new heroes, the Zig and Zag, the exquisite and charming Mademoiselle, the adventurers of the savannah, Les Papoum, and Les Pachats in original version with numerous tales to share.